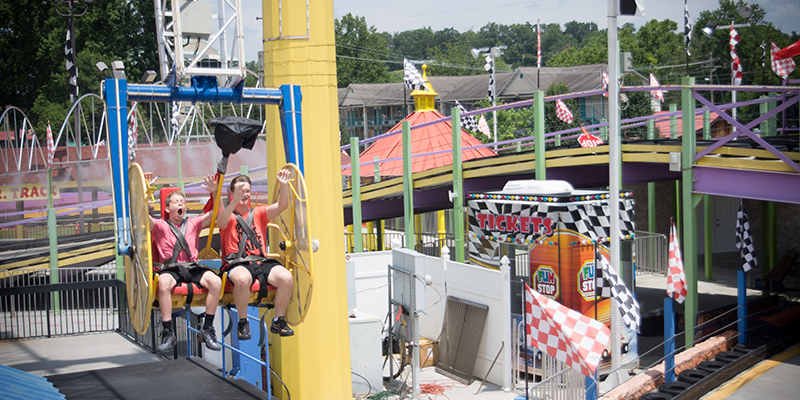 Pigeon Forge in July
Pigeon Forge in July
Browse through the awesome summer activities that are going on in the Great Smoky Mountains. There are so many great attractions, activities, and adventures to embark upon, so do not miss out on all the fun! A getaway and hotel experience with the Gatlinburg / Pigeon Forge, Tn area is sure to be a fantastic time!  
Located in the heart of Pigeon Forge! FunStop Family Action Park is one of Pigeon Forge, Tennessee's landmark parks!
Whether you're a thrill-seeker or 
just
looking for a good time. There's something for everyone here at FunStop Family Action Park. So, bring your entire family and invite your friends for a full day of fun.
Are you looking for a fun and memorable addition to your next Smoky Mountain
vacation? M
ake your way to the main comedy show event located at Pigeon Forge's Comedy Barn Theater. It is an award-winning family variety show that is sure to allow guests to have a fun night of entertainment. Offering 2 hours of clean jokes, magic, and awesome critters,
The show is sure to keep you laughing so hard and leave you mesmerized. Enjoy an arsenal of acts, featuring fire-eating, magic, stunts, and hilarious
family-friendly
fun. Feel free to bring the kids and your granny for a night of entertainment everyone will love! It is one of the best shows in the country, so do not miss out.
You will also get a healthy dose of good old-fashioned, red-blooded patriotism.
Also, fun audience participation, some awesome stunt dogs and animals like pigs and house cats
. Along with wild acts, and skits everyone will laugh at. All acts are safe for the whole family and
kid-friendly
. The audience is sure to have an amazing night.
Country Tonite is the hottest music show ticket in
Pigeon Forge.
Two hours of gut-bustin' comedy and toe-tappin' music. It ranges from contemporary country to sweet Southern gospel! Every performance has an extraordinary variety of talent and music. This has the show
repeatedly
nominated as the 'Best Live Country Music Show in America' and 'Show of the Year!' Its two hours of high-energy entertainment blend humor and dancing.
With everything from great country classics and country hits of today to an array of gospel and patriotic melodies
.
The cast contains entertainers of all ages from different parts of the country. These talented performers come together to bring you hilarious skits. They will have you rolling in the aisles and music that will have you tapping your feet to the beat. It is the only show in the area with youth performers, making it a unique experience. The cast will make you feel good as you laugh, sing, and dance along with them.
When you see the show, you will understand why it has been a favorite for over twenty years. Each year brings a new cast, new costumes, and new comedy. Also, new music so you can come back year after year and see something new! This fast-paced production will leave you feeling great. You'll be talking about it for the rest of your trip (and even after your trip). Don't miss out on the chance to see this famous show and create memories for the entire family!
Located minutes from the Smoky Mountains, Dollywood, the Titanic Museum, and so much more
. This show is convenient for any vacation. The multi-million dollar theatre holds 1500 people. It features state-of-the-art lighting, sound, and technology.