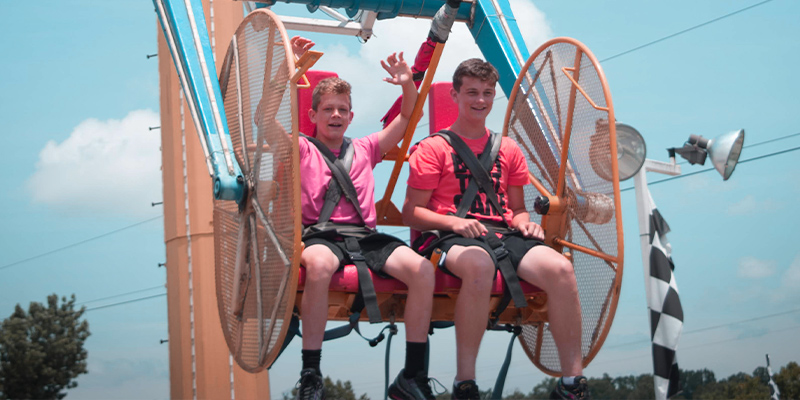 Pigeon Forge Thrill Seekers Guide
Pigeon Forge Thrill Seekers Guide
Ready for a thrill? Check out our Pigeon Forge thrill seekers guide! There's something for everyone here at FunStop Family Action Park. So, bring your entire family and invite your friends for a full day of fun. Make sure to stop by FunStop Family Action Park on your next visit!
SKYSCRAPER
The Skyscraper spins at speeds of 60 mph at heights of 150 feet. It gives you the feeling of being on a roller coaster at a major theme park. It's a thrill that you and the family and friends will be talking about for months to come. Moreover, it's perfect for the thrill-seeking daredevil. Try it out for yourself.  You won't be disappointed.  Not only is it a thrill, but it is the smoothest ride, with the most gorgeous view of the Great Smoky Mountains!
SLINGSHOT
Who cares about gravity? Defy the force with a once-in-a-lifetime, supernatural experience on the Slingshot. Once you've convinced (or bribed) a friend to join you on this absolutely insane ride, you're both safely secured in a capsule. Then the countdown begins! Catapulted (yes, exactly like a slingshot) straight up to the sky. The Slingshot goes to heights up to 300 feet in the air at speeds up to 60 miles per hour. At the very top, you'll find that extraordinary sense of weightlessness. Then, as quickly as you rocketed up, you'll zoom back toward the ground. Often rotating head-over-heels and bouncing up and down until you come to rest at the launch point. Whew! Did that just happen? It sure did, and once you try Slingshot once, trust us when we say you'll be back for more.  Guests are shot into the sky and soar over 120 feet into the air.
Bring the whole family, and grab a friend or two!  This is a ride you will talking about for years to come. FunStop Family Action Park is the perfect spot to visit on your family vacation.  Make memories here!
ZIPLINE
Take flight and experience the Smoky Mountains from all new heights. Soar with the Eagle Zipline is considered a safe and fun activity for individuals of all ages. Fly like an eagle for 700 feet on our Soaring Eagle Zip Line. Go soaring forwards and backwards over the Fun Stop Family Action park. Stop by FunStop Family Action Park today and enjoy a breathtaking, "world-class," flying adventure!
GO KARTS